A message from our Chairman:
WELCOME TO OUR 2022-2023 SEASON
Hello and welcome to the Lyceum Theatre Oldham's 2022-2023 season of plays. If there was ever a time when the magic of live theatre was needed to transport us all away from the humdrum, uncertainty and difficult realities of life, if only for a couple of hours, that time is now!
Our Artistic Directors (who both retire this year) have chosen strong casts to match the writing of the plays, and those casts are fully complemented as usual by the stalwarts of the theatre who select the plays, design and build the sets, create and manage the lighting and sound effects, stage-manage the show, deal with props, organise and manage refreshments, the bar and front of house. I have been involved with the Lyceum since 1992 and chairman since 2017 and I know how hard those people behind the scenes work. So please remember, when you are applauding the cast at the end of a performance, you are also applauding those members who make all our plays possible.
There are additional events this season which we hope you will find of interest. Give the brochure a good read and then book your season tickets plus some or all of the events as soon as possible. Remember also that the ticket price for the play includes the cost of a cup of tea/coffee, a raffle ticket, and the programme of the play.
Phil McCarthy
A Few Words About Us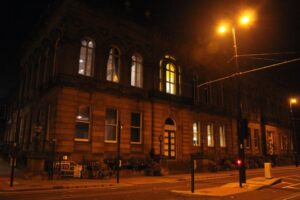 The Lyceum Theatre Oldham is a successful and award-winning amateur theatre company entering its 93rd year.
The Theatre can be found on the lower ground floor of the Lyceum Building, 95 Union Street, Oldham. A varied programme of productions is presented each season in this intimate theatre space.
In 2015 the Lyceum Theatre Oldham refurbished the auditorium to provide new seating and decoration.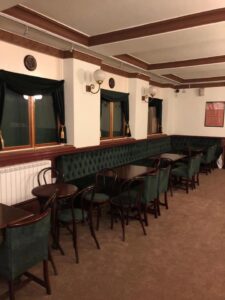 The Theatre has also recently refurbished the front of house and bar area. The large and comfortable bar and coffee lounge is the perfect place to enjoy refreshments before, during the interval and after the performance.